Iloilo may have Taiwan-Iloilo chartered flight in the near future as the Department of Tourism Region VI and Philippine DOT Office in Taiwan arrange ground works to make the route possible.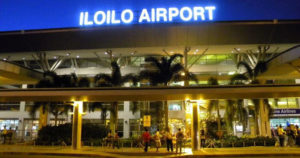 DOT Region VI in partnership with Tourism Promotions Board and Philippine DOT-Taiwan on one hand and City Government of Iloilo and Association of Iloilo DOT-Accredited Travel and Tour Operators and Iloilo Dinagyang Foundation Inc. on the other hosted the visit of Taiwan-based media Apple News Daily and Formosa TV on January 2022, 2017 to cover the Iloilo Dinagyang Festival and visit other points of interests in Iloilo and Guimaras to make the Taiwanese travel consumers aware of Iloilo and Guimaras tourist attractions and facilities.
Apple News Daily is a leading Taiwan broadsheet/print media, internet news and TV News in Taiwan with a daily readership of more than 25 million while Formosa TV is the top 4 news channel in Taiwan that covers and highlights tourism and culture events in Asia and the Pacific Region with an average daily viewership of 1.2 million.
DOT Region VI Director Atty. Helen J. Catalbas said Formosa TV's Facebook live post on January 22 attracted worldwide attention. She stressed "the post earned 35,000 views, 122 comments and 33 shares despite the limited internet service and blockage of telecom signal during the Dinagyang 2017 competition." The post continues to attract worldwide attention up to the present and beyond.
Director Catalbas revealed the second initiative will be the coverage of Iloilo, Guimaras and Bacolod City/Negros Occidental of SET TV, another Taiwan-based media, on February 17-23, 2017 focusing on out-of-the-box daily points of interest and lifestyle of these three Western Visayas destinations. This Iloilo Paraw Regatta coverage also aims to inform Taiwan travel consumers of the said attractions. She added the trip of 20 Taipei-based tour operators and travel agents, 8 Taiwan media and 2 PDOT-Taiwan personnel are being arranged to familiarize with the standard itinerary offered by DOT-accredited tour operators in Iloilo, Guimaras and Negros Occidental and inspect properties pertaining to accommodation, transportation and food on March 27-31, 2017.
"DOT Region VI will also host a Business-to-Business (B2B) Networking session among visiting Taiwanese tour operators and travel agents, Cebu Pacific Air and Philippine Airlines representatives and DOT-accredited Western Visayas tour, hotel and souvenir shop operators", she emphasized. With this visit, DOT Region VI hopes to link up with the two national carriers of the Philippines to fly the Taipei-Iloilo International Airport routes subject to air routes and landing negotiations, rules and regulations.
It is hoped that the first chartered flight from Taiwan to Iloilo International Airport will be in 2018 in time for the 50th anniversary of the Iloilo Dinagyang Festival. /Photo credits: iloilotoday.com