The country's Seafood Capital is all set to host the 1st Capiz International Triathlon on April 22-23, 2017.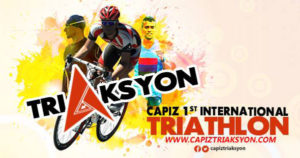 Gov. Antonio del Rosario led the provincial officials and organizers at the launching January 27 of the 1st International Triathlon competition in Capiz. The triathlon will be a culminating activity of the annual 'Capiztahan,' a weeklong festival commemorating the foundation anniversary of Capiz.
The event is envisioned to be a yearly triathlon in Capiz to be participated by swimmers, bikers, and runners from all over Panay and the other islands. Participants will be divided into four categories – Tri-Kids, Sprint, Standard, and Relay.
The triathlon aims to support various sports communities in Capiz and the rest of the country. It also wants to promote Capiz as an ideal location for triathlons and other sports events.
Foreign participants have indicated their desire to compete. Organizers said that judging from the profile of the confirmed participants, they expect thousands of spectators from all over the country to grace this event.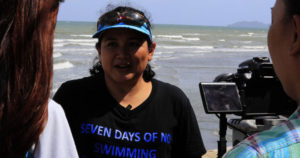 Betsy Medalla talks to the press at the inaugural swim January 27 of the scheduled First Capiz International Triathlon on April 22-23, 2017.
A two-kilometer inaugural swim was conducted early morning of January 27 from Baybay Beach to Mantalinga Island in the coastal waters of Roxas City by accomplished triathlete swim coach Betsy Medalla and other local swimmers as part of the launching by the Capiz provincial government of the multi-sport competition./PIA6, Photo credits: capiztriaksyon.com*