The Department of Agriculture (DA) Regional Field Office 6 turned over a total of P13,650,000.00 worth of farm machinery to 21 farmers associations in Western Visayas during a program held over the yearend of 2016 at Western Visayas Integrated Agricultural Research Center, Jaro, Iloilo City.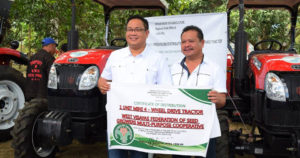 Assistant Secretary for Visayas and Regulations Hansel O. Didulo and Regional Executive Director Remelyn R. Recoter led the distribution of 18 units of pump and engines, three units of reaper harvester, 14 rice threshers, four mini four-wheel drive tractors, and three rice combine harvesters to identified farmer groups.
"We enjoin you (farmers) to become our partners in making Iloilo as a major rice producing province in the country along with Nueva Ecija, Isabela, and Pangasinan. Once finished, the Jalaur River Multi-Purpose Project of the National Irrigation Administration will irrigate more than 33,000 hectares of rice areas," said Recoter.
The Philippines has 2.32hp farm mechanization level which is lower compared to other Asian countries, according to the Philippine Center for Postharvest Development and Mechanization.
"By providing our farmers with these farm equipment, we can increase the production volume of farmers, reduce production cost and postharvest losses," added Recoter.
Recipients are farmers associations/cooperatives who underwent training on operations and maintenance for the maximum utilization of the equipment.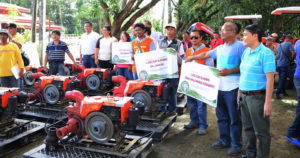 Meanwhile, Asec. Didulo said that the DA is now focused on its primary goal of producing available and affordable food for all Filipinos, to uplift the lives of the farmers and fisherfolk and to stop corruption in the agency. /Sheila Toreno – DA6, Photo credits: Joel Garcia – DA-rafid Rfo VI Facebook page*