Only 4 out of 18 town mayors in Antique found time to attend Senator Loren Legarda's "dialogue with local officials", facilitated by Gov. Rhodora Cadiao and held yesterday in the capital town of San Jose.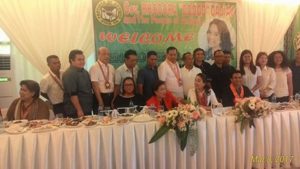 Mayors Mary Jean Te of Libertad, Gil Bandojo of Laua-an, Jose Marie Fornier of Tobias Fornier, and Elmer Untaran of San Jose were the only town heads present to hear Legarda dish out a flurry of promises of projects for Antique.
She pledged to almost double the 2017 projects allocation for the province through the Dep't of Public Works and Highways -from P3 billion to P5.25 billion.
Legarda chairs the Senate finance committee.
The absence of most mayors in the forum underscores the continuing clout of Cong. Paolo Javier and his father Exequiel among local officials, particularly the mayors in the Province of Antique.