The US$5.5-million rehabilitation of the port of Concepcion will soon commence following the launch of the Northern Iloilo Fishery Rehabilitation
and Development Project on February 1, 2017.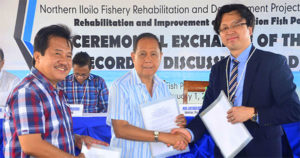 To be funded by the Korea International Cooperation Agency (KOICA), the project aims to raise the productivity and income of Yolanda-hit fisherfolks in Concepcion through the rehabilitation and improvement of the town's fish port facilities. KOICA country director Shin Myung Seop, Gov. Arthur Defensor Sr. and Concepcion Mayor Milliard Villanueva officially launched the project during the ceremonial exchange of the Record ofDiscussions (RoD).
An RoD is equivalent to a Memorandum of Agreement (MoA) between parties that will implement a joint undertaking. Under the terms, KOICA will also fund the construction of a new fish port complex, an ice storage facility, an addition of two access roads, waste management facilities and the capacity building of project implementers and beneficiaries.
Defensor said he could not thank KOICA enough for the many projects it funded in Iloilo, which includes the construction of a modern rice processing complex in Pototan and the rehabilitation of the hospitals in Alimodian, Balasan and Calinog.
Mr. Shin, for his part, said KOICA is helping the province of Iloilo "because we are inspired by your Governor and the Iloilo Provincial Government."
Mr. Shin arrived here along with other KOICA officials, namely KOICA assistant country director Lee Sangbak, program manager Francis Afable and program officer Baek Jubin.
Officials of the United Nations Office for Project Services (UNOPS), a partner of KOICA, also came with them —project support and business development
analyst Miguel Garcia and construction supervisor Genesis Subaldo.
Held at the Concepcion port, the ceremony was also attended by Philippine Fish Port Development Authority manager Elmer Figuracion, National Economic
and Development Authority asst. regional director Raul Anlocotan and municipal officials.
The Korean staff of the KOICA-funded Panay Island Upland Sustainable Rural Development Project and Board Member Lorenz Defensor also graced the
occasion.
The scope of work for the existing Concepcion fish port includes the repair and improvement of the pavement, revetment covering and buildings, and the
conversion of the existing wet market into a passenger terminal with total area of 450 square meters.
Restaurant stalls will also be improved, while selling area for local products will be built. Meanwhile, a new fish port complex will also be
built adjacent to the existing port where 6,500 square meters will be reclaimed, and a 200-meter causeway, a 600-square meter wet market and a 150-square meter administration building will be built.
The fish port complex will then be equipped with water tanks, floodlights, public address and warning system and a power generator./Capitol News*