The Sangguniang Panlalawigan of Iloilo paid tribute to its longest-serving (1971-1992) Vice Governor, the late Ramon Duremdes.
In a Resolution authored by Board Member Domingo Oso, the provincial board in session last week declared July 14-20, 2020 "Ramon Duremdes Week."
A copy of the resolution was formally presented today to the Duremdes family in the SP Session Hall at the Iloilo provincial capitol.
Board Member Oso said an enabling provincial ordinance would be passed soon as an edict declaring July 14-20 each year as "Ramon Duremdes Week."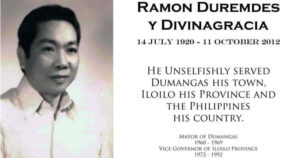 The Duremdes clan observed July 14, 2020 the centennial birth anniversary of the former Vice Governor of Iloilo, who also served for three terms as Mayor of his hometown Dumangas.
Ramon Duremdes is best remembered for his integrity and humility, a rare trait among politicians. He passed away on October 11, 2012.*