The municipal government of Jordan is adding a set of heavy equipment to rehabilitate its main wharves in Barangay Sanao and Lawi as well as the Roro wharf.
Mayor Ruben Corpuz told HilwayNews this week the bidding process is underway "for the procurement of an amphibious backhoe and bulldozer which hopefully could be delivered by next month."
"We need this amphibious backhoe to dredge the heavily silted wharves and the bulldozer for us to open up new barangay roads," Mayor Corpuz stressed.
He pointed out as example the Sanao wharf consisting of seven stairs. During low tide, only 5 stairs could service 5 motorbancas due to siltation.
"Our target is to extend the Sanao wharf to allow 10 to 20 motorbancas at any given time," the mayor said.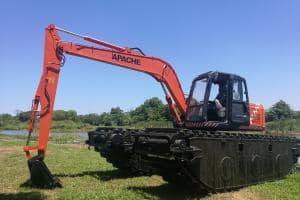 Jordan is gateway to Guimaras through the Sanao wharf that caters to passengers of motorized bancas. The Roro wharf nearby primarily services cargo and other heavy load transported at the Iloilo strait between Panay and Guimaras.
The equipment upgrade is financed through a P44-million loan from the Land Bank of the Philippines, Mayor Corpuz disclosed.*
IN PHOTO:
An amphibious backhoe; Jordan Mayor Ruben Corpuz welcoming Vice President Leni Robredo who brought assistance in the aftermath of sea tragedies at the Iloilo strait last August that killed 31 passengers of 3 motorbancas.*