The national leadership of Phil. Councilors League remains in limbo.
The Philippine Councilors League has this ample opportunity to act as catalyst among local legislative bodies as these confront new challenges to autonomy.
Local government units (LGUs) across the country stand to benefit from a much bigger share of the Internal revenue allocation (IRA) starting 2022.
The Supreme Court affirmed in April last year its 2018 ruling which mandated that LGUs' share of the IRA should include collections from the Bureau of Customs (BOC) and other "national taxes."
Prior to this ruling the 40% share of LGUs were limited to collections from the Bureau of internal revenue (BIR).
Hence, the incumbent councilors have bigger roles in refocusing the intended programs under the 20% development fund and IRA of their respective LGUs beginning next year.
But the PCL national organization is plagued with unsettled leadership conflict. Its national elections early this year ended in stalemate and failed in electing a new set of officers.
Once again the challenge falls on the incumbent PCL Iloilo leadership. After all, the landmark "Philippine Councilors Week" celebration traces its roots here.
Even before the passage into law in 1992 of the Local Government Code (Republic Act 7160), the Federation of Sangguniang Bayan Members of Iloilo (FSBMI) has been an active association of councilors.
Under the leadership of then Dumangas SB member Pablo "Bebot" Roces Nava III as president the FSBMI led the way "focusing its activities of equipping members with the needed skills in legislation."
From 1990 to 1994 the FSBMI developed into a dynamic force that guided the councilors in keeping up with the evolving devolution of powers and autonomy.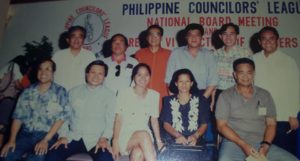 Through district conferences, capability building activities and fellowships the PCL Iloilo under Pres. Bebot Nava in the 1990s kept up with the demands of the new Local Government Code of 1992.
On July 23, 1993 Pres. Fidel Ramos signed Proclamation No. 212 declaring Sept. 1-7 each year as Phil. Councilors Week, "a landmark in PCL history" and initiative of PCL Iloilo.
Faced with leadership crisis at the national PCL and a shifting ground of IRA sharing, could the PCL Iloilo answer the call of the 'PCL Week' theme?
"Collaborating Towards a Synergy of Creative Programs and Best Practices Amidst Global Adversity."*
IN PHOTO: Atty. Pablo "Bebot" Roces Nava III, then PCL president at a legislative skills building forum in 1994. Bebot Nava also served as Congressman representing Append Party-List in 2013-2016. Also in photo are officers of PCL Iloilo in the early 1990s.*