NO RETREAT, NO SURRENDER FOR BONG LACSON, ALBEE BENITEZ ON PLAN FOR 'NEGROS ISLAND REGION (NIR)'
Mayor Albee Benitez is now pushing for an Executive Order to be issued by President Marcos Jr. for an administrative region in Negros island.
The move sidesteps the opposition to NIR by Gov. Roel Degamo of Negros Oriental, which he reiterated at a dialogue with his counterpart Gov. Bong Lacson of Negros Occ. early this week.
Degamo cited the "lack of equal footing" between the two provinces when the NIR finally materializes.
Lacson and Benitez earlier spearheaded the lobby in Congress for the creation of NIR, now including Syquijor province.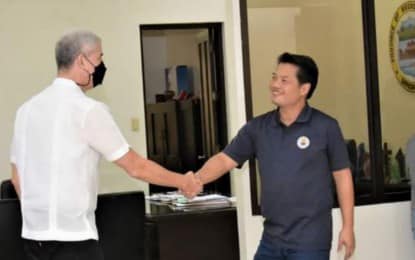 Degamo instead proposed gerrymandering Negros Occidental by establishing a "fourth province" to be carved out from the towns in northern Negros Occidental.
Consequently the Negros Island Region is "back to the drawing board".
IN PHOTO: Gov. Degamo meets with Gov. Lacson in Dumaguete City; Gov Lacson and Mayor Benitez in Bacolod City