STRAIGHT TALK by JERRY TACLINO
There seems to be no end in sight to the conflict within the Yanson family, owner of Vallacar Transit Inc. (VTI) the company that operates Ceres Liner.
The conflict first caught public attention July 7, 2019 when four of the Yanson children – Celina, Emily, Roy and Ricardo Jr. took over the management and control of VTI headquarters in Mansilingan, Bacolod City.
Through a 'special board meeting' the VTI chief executive officer (CEO) Leo Rey Yanson were stripped of his position and power in the company. Roy Yanson became the new VTI chief.
A flurry of suits and counter-suits followed as the mother Olivia Yanson and daughter Ginette Yanson-Dumancas sided with the deposed Leo Rey.
But six weeks later and with a little help from the police, Leo Rey is back in the saddle at the disputed VTI headquarters. Meanwhile, the legal battles continue between the warring Yanson camps.
The Yanson family tragedy confounds a success story that is VTI-Ceres Liner which could better be understood when seen in the early stage of its history and development.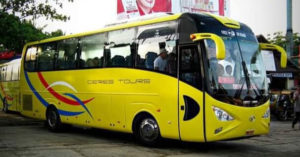 As a struggling journalist then I was privileged to have two exclusive interviews with Ricardo Yanson Sr. (now deceased) in 1988 – 1989 at Sarabia Manor Hotel, recently renamed The Mansion in Iloilo City. At the time VTI were barely starting operation in Panay.
Viewed by established bus firms in Panay as a "carpetbagger" Ric Yanson nevertheless were so sure he would soon dispatch of the competition.
One tool which he disclosed in the interview provided I kept it "off the record" for some time were the use of "fighting cars".
A fighting car is an extra, unscheduled bus. It goes ahead by 3 or 5 minutes of the scheduled Ceres bus (which usually had the same schedule with a competing bus).
The fighting car picks up the waiting passengers on the way but slows down for the scheduled Ceres bus to catch up and transfers the passengers to the scheduled Ceres bus after passing a few towns later.
Suffice it to say that one by one, the competition in Panay were waylaid: the Garnett buses in Northern Iloilo, 76 Express in the South to Antique, and CBL in the central Iloilo route, among other bus lines.
During the decade between 2001 and 2010 when light vans posed some threats to bus companies, the Ceres owner remained unfazed.
"Ang gina-kita nila sina ganansya lang naton sa gasolina," Yanson told a Christmas party gathering at the Ceres motor pool in Jaro, Iloilo City. VTI buys fuel in bulk and at wholesale price for its buses.
Besides his business acumen and technical expertise Ric Yanson was a visionary. As early as the 1970s and 1980s VTI were already importing brand new engines from Japan.
Also then Ric Yanson could afford the imported metal plates for local assembly of bus chassis. After all, much earlier VTI were granted a "pioneering" status by the Board of Investments (BOI) thus giving the bus company generous tax incentives and related government perks /jft
(Next : Family Business, or Business Family?)